humor post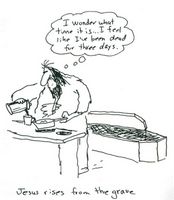 happy easter!

gary larson in his "prehistory of the far side" includes this cartoon in his sketchbook sampler section or his "little musings", which he claims border more on the weird than the funny.

well, this is one of the reasons why i love the far side.

the caption to this "jesus rises from the grave" sketch says:


my apologies if half the world takes offense at this. i'm not antireligious or anti-christian (i'm a little cynical about tv evangelists). i just can't help thinking about things like this and what would it feel like to anybody to get up after that long in the netherworld.